Pre-order AD-Minister Better!
My new book coming in 2023!
This book contains resources for all organiziation leaders, including Relief Society, Elders Quorum, Young Men, Young Women and Primary!
There are chapters covering a gamut of topics, and one of my favorites is about how to utilize technology, inlcuding automated calendaring, task tracking, and shared documents.
"If ye are prepared ye shall not fear…" -D&C 38:30
Pre-order now by clicking the image below.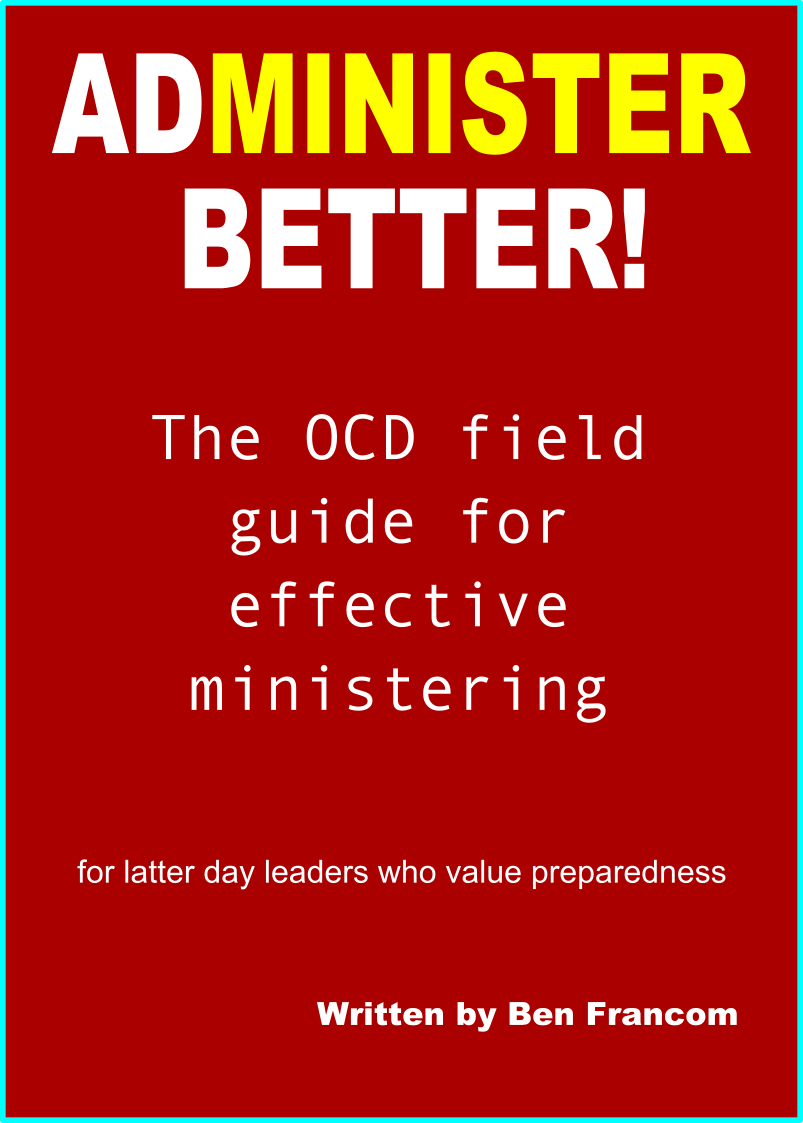 FREE Resources
Sacrament Conducting Template
Have you ever struggled conducting sacrament meeting?
I know I have! Everyone I ask has had the same problem. It never fails, whenever I conduct, I get what I like to call "conducting dyslexia." Forget it if you try to ad-lib or something comes in last minute. Your mind races and goes blank. You try harder, but you flub-up and things go miserably. You forget the Bishop's last name. You forget to recognize the High Counselor on the stand. You mispronounce someone's name and call them "Sister Ungabunga" or "Brother Rosenrose." The worst thing that happened to me was failing to recognize my wife when she was conducting the music! Doghouse for sure!
Don't let this happen! You can pre-order my book my book for a PDF form-fillable version, or click here or the image below for the the totally free online version of the sacrament conducting template.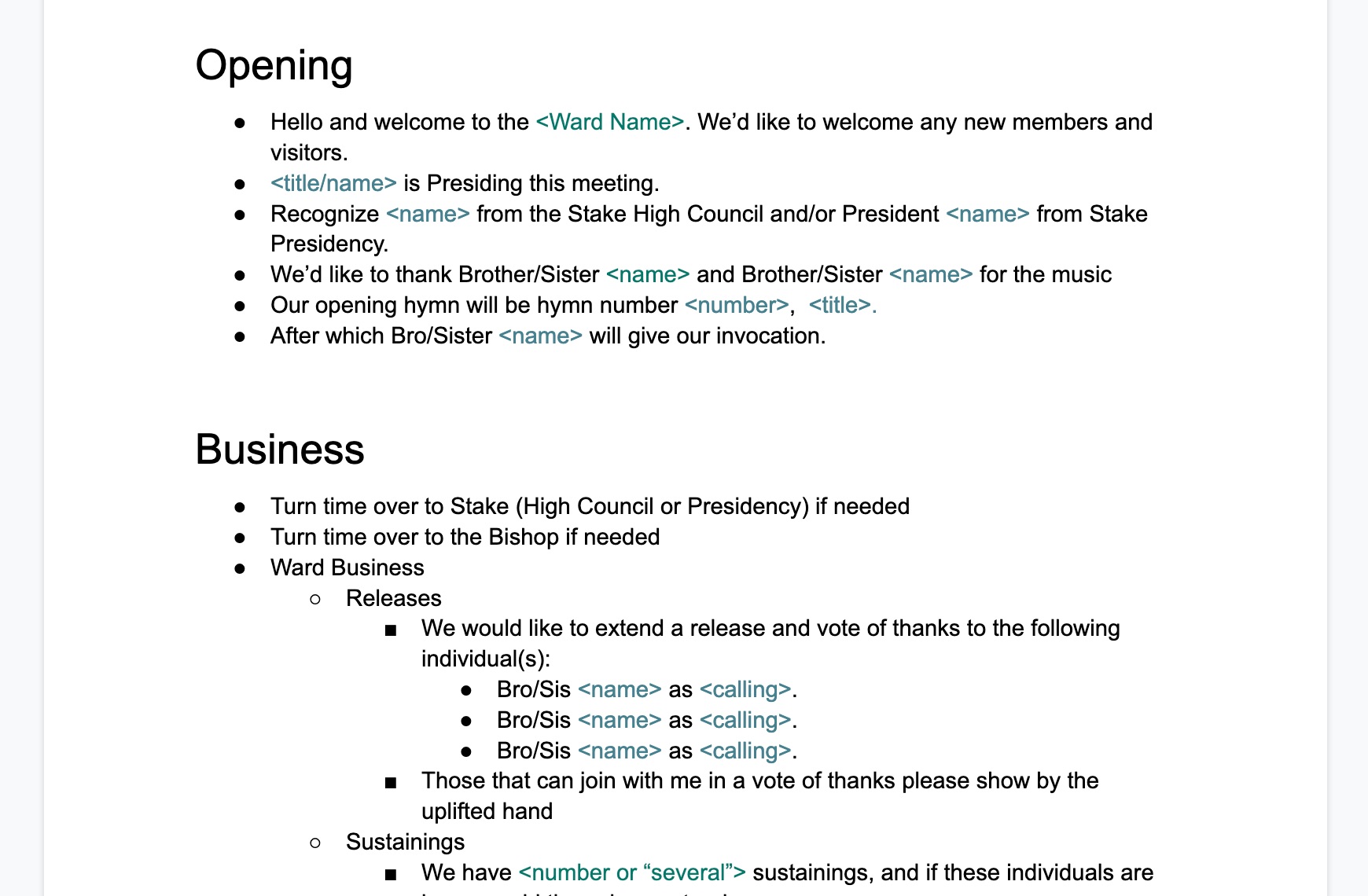 Sacrament Passing Map
This sacrament passing map for is for new and confused deacons, teachers, priests and elders everywhere. How many times do you see confused looks, puzzled faces, and scrambling around the pews? Do you notice distractions and commotion when someone sits down to pass the sacrament? Couldn't reverence be maintained if everyone knew their places? This map makes it dead easy for everyone to know where they need to go. Click here or the image below for a full color PDF of the Sacrament Passing Map.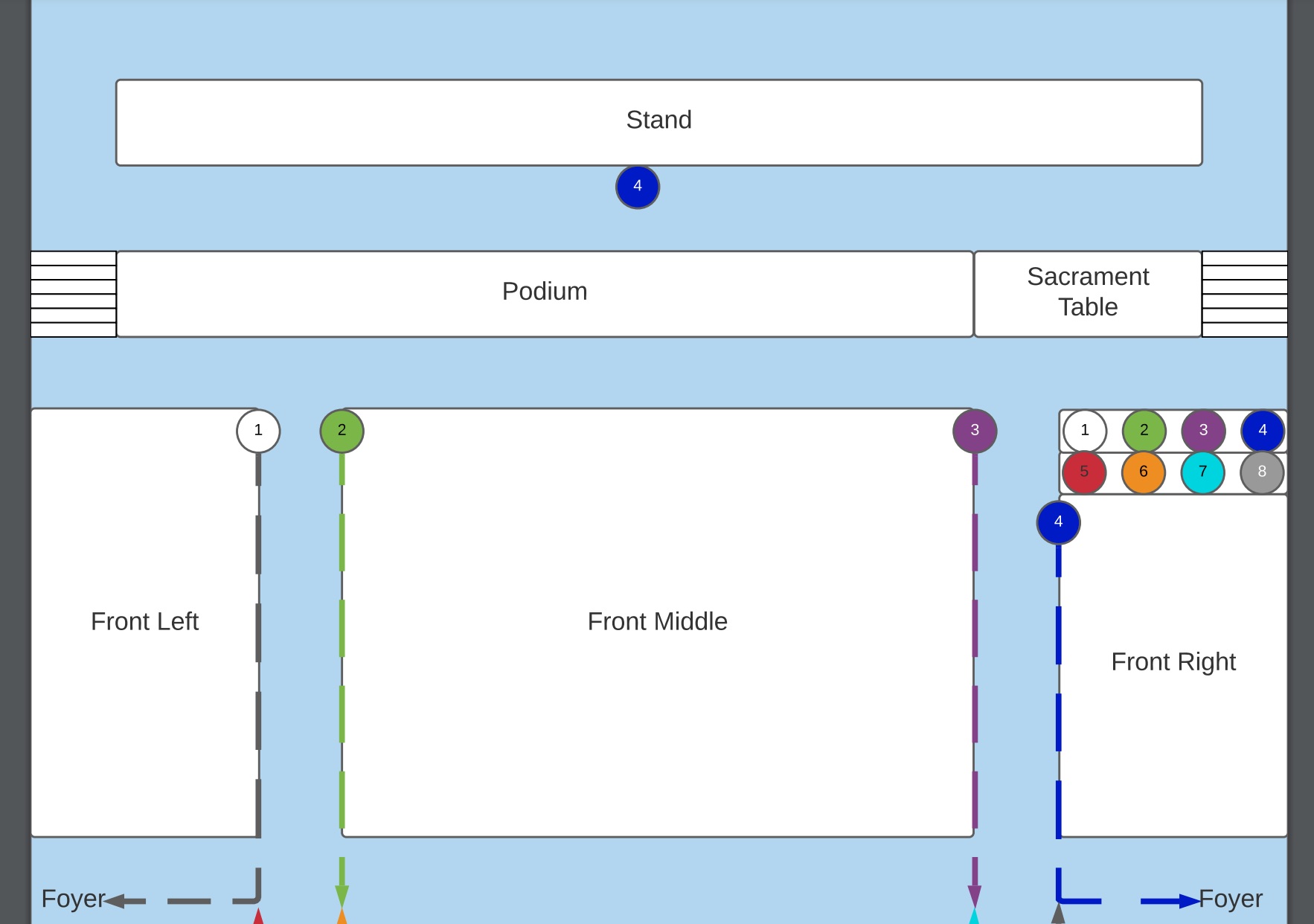 Please note that in our building the Sacrament table is connected to the podium with the stairs on the outside. If your Sacrament table and podium are separated by stairs, please pre-order my new book, and that additional map will be included along with a PDF fillable version of the Sacrament Conducting Template. That is $400 in value for free when you pre-order my book!
Checklist for Conducting Baptisms
This little checklist will ease your concerns when conducting a baptism.
---
Subscribe
Let's stay in touch. Sign up for our newsletter. Do not worry, we will not bother you with boring details. Expect nice & tight updates about once or twice every 3 months.
---
Imprint & Privacy Policy
Let's keep it simple. This is our contact information:
We take data privacy very seriously, so we make sure not to store anything we do not need. We do not have any tracking service, no cookies or anything like that. If you decide to use the contact form or the newsletter sign up this information will be stored on Netlify, a service we use to host this website. You can approach us any time to have your data removed or simply retrieve information about what information we did store.
---
Contact
Have we caught your attention? We appreciate your feedback, and please do not hesitate to contact us to let us know how to serve you better.
---